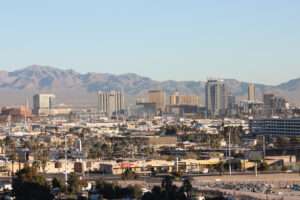 Visitors to the Las Vegas area are often unaware of two facts about Paradise. The first fact is that, despite having a population of more than 300,000 people, it is unincorporated and one of the most populous census-designated places in the nation. The second fact is that many of the attractions that draw visitors to Vegas are actually located in Paradise, including many that are referred to as being on the Las Vegas Strip. When the hotels, casinos, restaurants, and other businesses in Paradise need help with their asphalt parking lots, they often ask Affordable Striping & Sealing to provide maintenance services. These services include parking lot layout and design, crack repairs, sealcoating, pavement and road markings, parking lot striping, stenciling, and the installation of traffic signs and wheel stops.
Paradise, Nevada
A Brief History of Paradise
As far back as 1910, farmers, recognizing that the land was excellent for cultivating due to the high water table, began referring to the area as Paradise Valley. By 1914, Paradise had established its own school district. During the 1940s, several luxury hotels and casinos opened in Paradise, including the Flamingo, the New Frontier, and El Rancho Vegas.
In 1950, the mayor of Las Vegas spearheaded an effort to annex the Strip. Casino executives banded together and lobbied Clark County for town status, preventing the annexation. Although initially Paradise included little more than the strip of land on which the casinos were located, the residential areas were brought into the fold very quickly. Due to certain legal issues, what is now the town of Winchester was split off from Paradise in 1953.
Between 1970 and 2010, the population of Paradise increased more than 900%, rising from 24,477 to 223,167. The town is home to McCarran International Airport, the Vegas Golden Knights professional hockey team, and the University of Nevada, Las Vegas.
Popular Services We Provide in Paradise
Affordable Striping & Sealing is committed to helping our customers obtain the longest life possible for their asphalt parking lots. We specialize in preventative maintenance procedures that will help your parking lot last longer and look better.
• Crack Repairs: Over time, unrepaired cracks can jeopardize the integrity of your entire asphalt pavement. They may start small, but they will not stay small. The larger they get, the more opportunity there is for water, sand, vegetation, and automotive fluids to seep inside and inflict damage deep in the structure's interior. At least once every year, ask a professional contractor to inspect your pavement and repair all significant cracks.
• Sealcoating: Professionally applied sealants are an economical way to protect asphalt pavements from nature. Harsh sunlight, high temperatures, and UV rays can leave your asphalt dry and brittle, and they will also leave your pavement an unattractive shade of gray or brown. Without sealcoating, oil, gas, and other automotive fluids will quickly soften your pavement, making it more susceptible to damage. Sealants protect your pavement and restore its dark color. On average, parking lots in Paradise need fresh sealant applied about every two years.
• Parking Lot Layout and Design: When it is time to repaint your parking lot markings, you do not have to follow the old layout. Your current parking lot design may not comply with local and federal codes and regulations, for example, or you may have areas that are underutilized. A new layout may help you provide more parking spaces, improve the safety of your lot, or make parking more convenient for your employees or guests.
• Traffic Signs: Parking lot signs are an important part of enhancing the safety of your property. There are also signs that you are required to install if you are to comply with the Americans with Disabilities Act, also known as the ADA. We can help you determine which signs are needed and where they should be located. We can then install the right signs for your specific needs.
• Parking Lot Striping and Pavement Markings: Confusion reigns when parking lots are not properly marked and striped. Drivers need to know how to navigate through your parking lot, where they should and should not park, and where potential hazards may be located. Most parking lots need fresh paint applied every time sealcoating is applied.
• Road Markings: Road markings convey essential information to motorists and pedestrians. These markings help keep everyone safer.
• Stencils: Stencils can be used to designate assigned parking spaces, denote no-parking areas, or convey other types of information.
• Wheel Stops: Also known as bumper blocks, wheel stops can provide guidance for drivers when parking their cars. They can also help protect your landscaping, walkways, signs, and buildings.
Affordable Striping & Sealing serves businesses of all sizes and in all industries. Our client base includes casinos, hotels, office buildings, restaurants, hospitals, resorts, schools, and virtually any other business that has an investment in asphalt pavement to protect. We are known for providing superior results at competitive rates. We would be happy to prepare a free quote for you if you call 702-222-9009 or submit the online form.
Jump to top