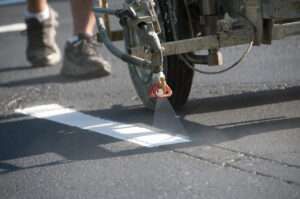 Parking lot striping and pavement marking are the most economical ways to give your parking area that fresh, new look. Affordable Striping & Sealing, LLC is the Las Vegas Parking Lot Striping & Pavement Marking Specialist.
Parking Lot Striping
The parking lot is one of the first things your patrons see when they pull onto your property. Parking lots that are properly laid-out and painted create a sense of safety and organization for vehicular and pedestrian traffic. High quality parking lot striping also says that you care about the details and creating a good experience for both cars and pedestrians.
To properly maintain your parking lot, stripes and markings need to be restriped every 1 to 2 years. The frequency of restriping depends partly on the amount of wear and tear made by people driving on the asphalt, water exposure, condition of the asphalt and the frequency of maintenance visits.
Affordable Striping & Sealing specialize in parking lot striping and pavement markings in Las Vegas and throughout the surrounding area. We offer the same high quality product and customer service on all sized properties. We use state of the art pavement marking equipment and the highest quality paint and products on the market. We only use oil based, high quality, high VOC traffic paint. The supreme quality of this paint is far superior to that of latex paints.
Upgrade Property Appearance
Customers are naturally attracted to a well marked parking system. The parking lot is the first thing that customers or visitors see. A freshly painted parking lot can lend an attractive impression to the overall image of your property.
New Pavement Markings Increase Safety For Your Patrons
Proper pavement markings and signage increase traffic safety. It directs traffic to the proper route of entrance and exit, allowable areas to park, ADA walkways, loading zones, fire lanes and defines drive aisles that are wide enough to avoid accidents with cars and pedestrians. We are familiar with all Las Vegas pavement marking codes and regulations, including ADA compliance issues.
Our Las Vegas parking lot striping & pavement marking services include:
Line Striping
Handicap Logos
Traffic Stencils (arrows, stops, custom)
Curb Painting
Playground Striping
Trust Affordable to properly plan and execute your Las Vegas pavement marking & Las Vegas parking lot striping needs. Contact us today at 702-222-9009 or fill out the Free Job Quote form. We can provide an affordable high quality solution to your parking lot striping needs.